Car key batteries..one of the great mysteries of the motoring world. It's one of those jobs that can seem really hard, but most of the time it's simple. The problem comes from years ago, around 1990. Lots of cars were being stolen, so immobilisers were installed to prevent this, controlled by a remote fob. When you needed to change the car key battery, sometimes the car wouldn't start afterwards.
Then the stories started that you only had 5 secs, or 10 secs to change the battery, plus Venus needed to be in Jupiter, and the legend grew. A mixture of magic and witchcraft was needed!
These days, you're generally safe to take the battery out and swap it for a new one. We change them every day and very seldom do we have any problems.
IMPORTANT
Most modern cars have a back-up system that allows you to use the car, should the car key battery fail. Let's face it, one day it's going to stop working.
So, don't worry, even if you mess this up, you should still be able to start the car and drive home!
Do's and Don'ts when changing a car key battery
Some really simple stuff here.
Car Key Battery Tip One
Try and find out what type of battery your car key takes, before you start opening it up. If you don't know, check out our YouTube channel with nearly 200 videos explaining how to change your key battery.
Car Key Battery Tip Two
Get a good car key battery. We change around 100 batteries every month. Most of the problems are because owners, or the garage that looks after them, have fitted a poor-quality battery. We recommend a car key battery with English writing on such as such as Maxell, Sony, Duracell, Panasonic.
Most common batteries we change are
CR2032 on Ford, Vauxhall
CR1620 on Peugeot and Citroen
CR2016 on older Peugeot and Citroen
Click the Amazon link to find out more. 
Car Key Battery Tip Three
If you need to remove a screw (such as a Toyota, or Honda) find a small jewellers screwdriver that fits the screw. We see so many rounded off screws because the wrong screwdriver has been used.
When the screw head is rounded off, it cannot be removed and therefore the only way to change the battery is to break the key open and replace the case. This is pretty drastic, just to change the car key battery, but is the only way it can be done.
Car Key Battery Tip Four
Remember which way up the key battery went. We see lots that have been put in the wrong way up!
Car Key Battery Tip Five
Does your door lock work? Lots of people we meet have no idea that the door lock of their car is faulty. Unfortunately, they find out once the car key buttons stop working. When changing the battery, check you can get back in, if the buttons stop working for any reason.
Research how to open the key. With YouTube, there are so many good videos made to help you. As well as our channel, click here, there are lots of good channels to help you. 
Does it need programming afterwards?
If you change a key battery and the central locking stops working afterwards, there's normally a simple reset procedure, such as the Ford method as follows. Click Here to see how Ford car key batteries are changed are re-synched.
Other keys such as Peugeot and Citroen just need the ignition turned on and the button held for five seconds, again, find a video to explain this.
The important thing here is, don't panic. If you can,  plan for the day your car key battery gives up working, then you're halfway there.
Good Luck!
Find your Make and Model below for a clear HOW TO Guide
Nissan Teardrop Style Proximity key Click Here
Ford Fiesta 2009 – 2016, Ford Focus 2005 – 2010 Flick Key Click Here
Vauxhall Astra 2004 – 2010 Flick Key Click Here
Ford Mondeo, Focus 2011 – 2016 Click Here
Ford Fiesta 2002-2008 Click Here
Ford Focus, Ford Fiesta Proximity Teardrop Key Click Here
Mazda Flip key Click here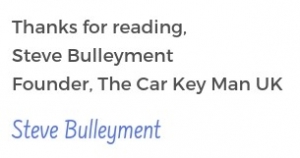 This post contains affiliate links.
Affiliate Disclaimer
Links on this website may lead you to a product or service. They provide an affiliate commission to the owners of this site should you make a purchase. In no way does any affiliate relationship ever factor into a recommendation. Nor does it alter the integrity of the information we provide.
Please note that we have not been given any free products, services, or anything else by these companies in exchange for mentioning them on the site. The only consideration is in the form of affiliate commissions.
https://thecarkeyman.co.uk/wp-content/uploads/2020/09/New-UK-Logo-300x118-1-e1693299977110.jpg
0
0
Steve Bulleyment
https://thecarkeyman.co.uk/wp-content/uploads/2020/09/New-UK-Logo-300x118-1-e1693299977110.jpg
Steve Bulleyment
2017-12-29 23:57:07
2020-02-20 20:57:41
HOW TO change Car Key Battery