Every week we talk to customers who are pulling their hair out, with a broken Vauxhall key.
Good news – they are easy to fix.
Here's all you need to fix your broken Vauxhall Key
Broken Vauxhall Key  – What you'll need to fix it.
Most Importantly.
Both parts of the key!
If your blade breaks away from the key body, keep it safe.
It's common for the key to be used long after should be, with the broken blade in the ignition, and being turned with the broken remote. This will keep you going for a long time, but we hear from people who lose the blade, and that's bad news.
Broken Vauxhall Key Repair Key Case
Available as both a two button repair case and a three button repair case. You'll need a high quality case that allows the electronic parts to be swapped over.
Some cases are held together by glue, but the better cases also have a screw that keeps both halves together.
Circlip pliers – perfect to open up your broken Vauxhall key
Pin Removal punch
This luxury will make swapping the blade over easier. If you don't have a punch then you can also get the key blade cut. The problem you have is that many key cutting shops will not do this if they haven't supplied the key as well.
Normal everyday Pliers
These can be hand when refitting the key blade pin.
Patience
This is really important. You have to remember that you're doing something you've never tried before. Whilst it's fairly simple to do, you need to put some time aside so that you're not in a rush to fix your broken Vauxhall key.
******** Important ********
Before you break open the key case and try and swap it all over, make sure you know how to do it.
Every week we see keys that have been ruined, simply because of heavy handiness, or a slip with a screwdriver.
For a complete guide to open the old key and rebuild the new one, click below
This will take you to a link with our Broken Vauxhall Key repair guide that will show you exactly what you need to do.
It's just as important to know what NOT to do, so you don't damage the key.
Good luck and we hope this helps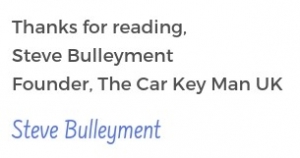 Affiliate Disclaimer
Links on this website may lead you to a product or service. They provide an affiliate commission to the owners of this site should you make a purchase. In no way does any affiliate relationship ever factor into a recommendation.  Nor does it alter the integrity of the information we provide.
Please note that we have not been given any free products, services, or anything else by these companies in exchange for mentioning them on the site.  The only consideration is in the form of affiliate commissions.
https://thecarkeyman.co.uk/wp-content/uploads/2018/01/Insignia-key-repair-1.jpg
1261
1556
Steve Bulleyment
https://thecarkeyman.co.uk/wp-content/uploads/2020/09/New-UK-Logo-300x118-1-e1693299977110.jpg
Steve Bulleyment
2018-12-04 06:07:06
2019-09-24 15:25:33
Broken Vauxhall Key Problem